06.10.21

FAQ's
COVID 19 SHIPPING UPDATES
—
Due to Covid-19's impact on production, shipping, logistics, and other related infrastructure, service guarantees for all shipments have been suspended regardless of the dates listed on any particular product or in the shipping sections below.
TECHNICAL QUESTIONS
I CAN'T REMEMBER MY USERNAME/PASSWORD:
In the event that you forget your password, you can request a new password by clicking the "Forgot Password" link at the bottom of the login form.
Can't remember the email address associated with your account? Email thricecustomeralliance@gmail.com for help.
WHAT DO I DO IF I'M HAVING TROUBLE RECEIVING EMAIL UPDATES?
If you aren't receiving emails from the Thrice Alliance team, please check your spam folders, and add thricecustomeralliance@gmail.com to your address book and as an allowed address to any spam filters you may have.
Still having issues? Email us at thricecustomeralliance@gmail.com
MEMBERSHIP QUESTIONS
HOW DO I JOIN THRICE.NET?
To learn more about joining the Thrice Alliance and about membership fees, please visit thrice.net.
WHAT ARE THE BENEFITS TO BEING A MEMBER?
Being a member of the Thrice Alliance fan club gives you access to pre-sale tickets, behind-the-scenes videos and stories, webcasts, and countless other unique privileges.
ANNUAL SUBSCRIPTION:
$100.00 / year
Access to Exclusive content
Priority Pre-Sale access when available
Monthly Playlists
10% off discount code to the Official Thrice store
Exclusive live streamed events when available
Monthly contests
Exclusive Thrice Alliance Enamel Pin and T-Shirt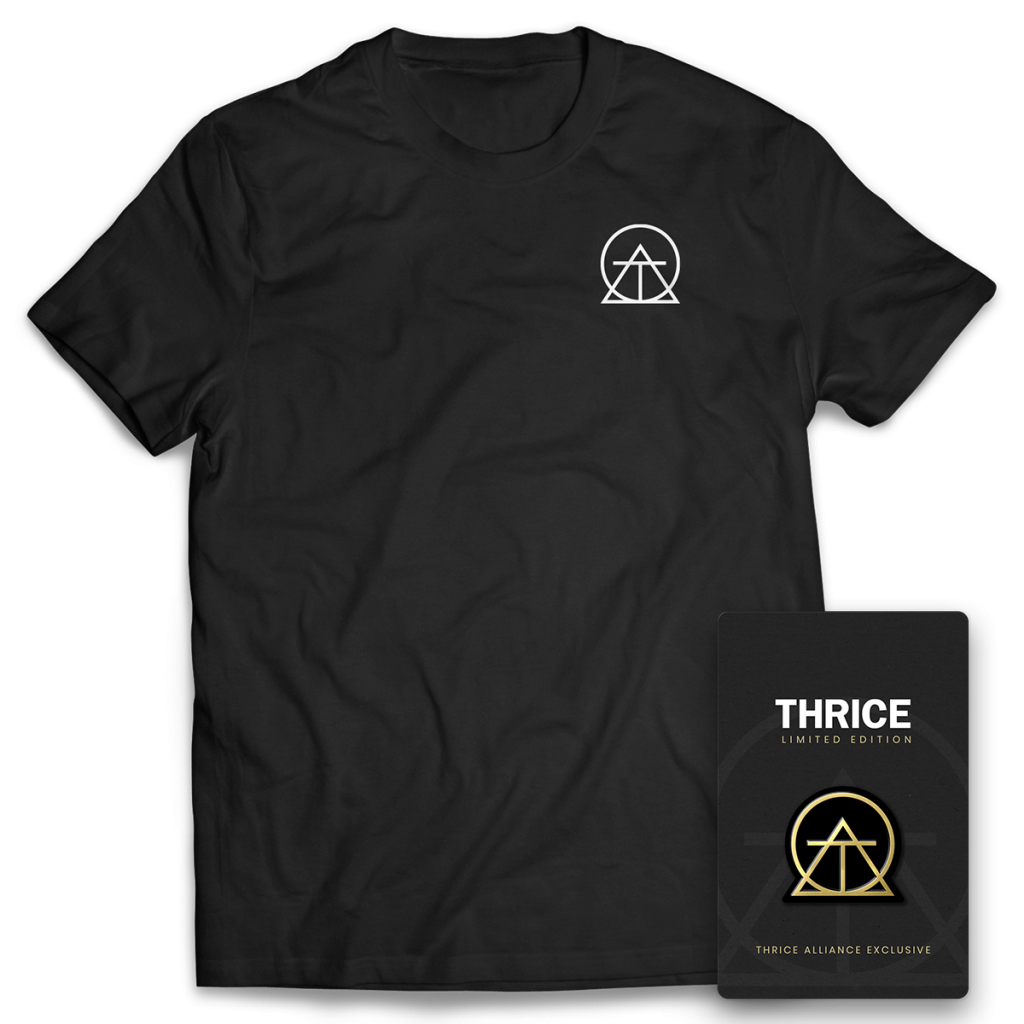 MONTHLY SUBSCRIPTION:
$10.00 / month
Access to Exclusive Content
Pre-Sale access with available
Monthly Playlists
10% off discount code to the Official Thrice Store
Exclusive live streamed events when available
Monthly Contests
FREE MEMBERS:
Select content when available
I PAID FOR MY MEMBERSHIP – WHERE'S MY MERCHANDISE?
After you purchase membership that comes with merchandise, you will receive a separate email with instructions on how to claim your merchandise. You will be responsible for payment of shipping + handling, tax and any applicable customs or duties.
HOW LONG WILL IT TAKE FOR MY MEMBERSHIP ITEMS TO ARRIVE?
Membership kits ship within 4- 6 weeks from order date. These timeframes are only estimates and may change with or without notice due to volume, holidays, production delays and other factors.
All orders are shipped from the United States and may be subject to additional international customs delays or charges. The Thrice Alliance nor Thrice are not responsible for and have no control over any delays or fees as a result.
ARE MEMBERSHIP FEES CHARGED MONTHLY OR YEARLY?
Depending on the subscription you purchase, fees are charged to your account either one time per year or one time per month.
WHAT IS THE THRICE ALLIANCE FAN CLUB REFUND POLICY?
Due to the nature of an online fan club, where benefits include access to exclusive photos, video, audio, text and community content that becomes available at the time of purchase, membership dues are non-refundable. Memberships do not guarantee pre-sale tickets, only the ability to participate in the pre-sale. Please be aware that your membership is valid for one year from the date you originally purchased your membership.
Your subscription to the Thrice Alliance will automatically renew at the end of the membership period unless you cancel your Paid Membership via your account profile. Cancellation of your subscription will take effect the day after your last day of subscription and you will be downgraded to the Free tier. We do not provide refunds or credits for any partial membership subscriptions.
HOW DO I CANCEL MY SUBSCRIPTION?
If you would like to review and update your account or would like to cancel your membership so that you are not automatically renewed and billed after the end of the membership term, then please visit your profile page and click on "Manage Membership" to manage.
Members will be reminded prior to the auto-renewal with time to cancel their subscription (or they can cancel renewal any time during their subscription period). Members can request to immediately cancel or downgrade at any time during their subscription period, however no partial refunds will be issued. All subscription sales are final.
WHO CAN I CONTACT WITH OTHER QUESTIONS?
For any other questions related to your fan club membership you can contact thricecustomeralliance@gmail.com.
STORE QUESTIONS
HOW LONG DOES IT TAKE TO PROCESS MY ALLIANCE KIT ORDER?
Please look to the product description for shipping expectations. Also allow a 3-5 day window for processing. Chosen shipping timelines will apply once the order is processed. Any questions regarding status please contact thricecustomeralliance@gmail.com.
INTERNATIONAL SHIPPING DUTIES AND TAXES
Orders shipping to destinations outside the United States might incur import fees and duties & taxes that are not reflected in our prices. If duties and taxes are imposed on your order, they are due at time of delivery.
Monomyth, Inc. nor Thrice / the Thrice Alliance have influence or control over local customs or duties. Please consult your local customs office for more details about your country's duties and taxes. Shipping arrangements and costs incurred to return items are the customer's responsibility.
RETURN / EXCHANGE POLICY
Sized items can be exchanged within 14 days of item delivery. Item must be unworn and unwashed and sent back in the original packaging. Items can be exchanged for another size of the same item only.
Exchanges can be returned to:
Thrice Alliance
1015 W. Kirkland Ave.
Suite 404
Nashville, TN 37216
Please include the following information for the item with the package:
Name
Order Number
Size Ordered
Size Needed
Questions regarding exchanges or damaged items can be directed to thricecustomeralliance@gmail.com.
WHO PAYS FOR MY RETURN?
If you would like to return or exchange an item, you will be responsible for the shipping cost to return the item(s) to us.
WHAT IF MY ITEM WAS DAMAGED OR INCORRECT?
If you receive an item that is damaged or the items shipped to you were incorrect, we will cover the cost to get you a new or correct item. Contact us at thricecustomeralliance@gmail.com within two weeks of your order's delivery, and we'll get your order sorted. We may ask for photos of any damaged items to ensure we understand the issue and can try to prevent it in the future.
MY ORDER SHIPPED BUT I HAVEN'T RECEIVED IT – WHATS UP?
If you have received tracking information for your order's shipment, please allow 3-7 days (domestic) or 2-4 weeks (international) for your order to arrive. Typically orders will arrive within the shipping timeframe you chose, but there are times where there may be delays.
If you haven't received your order within 4 weeks (domestic) or 8 weeks (international) after it has shipped, or your tracking information has been showing a "Pre-Shipment" status for more than 1 week, email us and we will look into it.
Once an order leaves our warehouse and is with the carrier, we do not have control of the package. If you have questions regarding where your package is, contacting the carrier is the best way to receive information and estimated delivery times.
MY ORDER WAS RETURNED TO YOU – WHAT DO I DO?
While it doesn't happen often, there are times an order is returned to us for various reasons. If a carrier returns a package to us, we will return the items to inventory and refund your order less the cost of shipping. If you still would like the item(s) you ordered, you can place a new order through the online store.
BILLING QUESTIONS
DOES MY MEMBERSHIP AUTOMATICALLY RENEW?
Yes. We will automatically renew your membership subscription and charge your card each billing period until you cancel.
CAN I PAUSE MY MEMBERSHIP?
Yes. Pausing your membership subscription will cancel your membership access until that subscription is reinstated. Once your subscription is reinstated, your membership access will resume for the remainder of the time left in your subscription period that was left at the time of pausing.
Use the "Manage Membership" section of your account profile to pause and/or reinstate your membership.
HOW DO I RENEW MY MEMBERSHIP?
Your Thrice Alliance membership will automatically renew when your next payment period is up. We will charge the credit card that you have on file in our systems. If your card is no longer active, be sure to update your credit card information under "Manage Membership". If we are unable to charge the card on file, you will be downgraded to the free tier and you can purchase a new subscription at anytime.
If you would like to review and update your membership or would like to cancel, please visit your profile page.
IS IT SAFE TO USE MY CREDIT CARD?
Yes. To safeguard your credit card information, we use SSL (Secure Socket Layers), the most advanced online security system available for processing online credit card transactions. SSL encrypts all ordering information so that no part of your order, including your name, address and credit card number, can be read in transit by a third party.
HOW CAN I CHECK MY NEXT BILL DATE OR BILLING HISTORY?
You can find information on your subscription(s), their statuses, and their billing dates by going to the "Manage Membership" section of your account profile.